Ardmac

Ardmac is an international construction specialist that delivers complex high value workspaces and technical environments.
We've been leading the way in specialist construction for over 40 years and we employ the brightest minds and the most advanced technologies.
Operating across Europe from our offices in Dublin, Manchester, Craigavon and Brussels, we employ over 300 staff,  providing specialist construction services to the commercial fit out, life sciences and data centre sectors, with in-house global capability to deliver projects to the highest standards. Ardmac's vision is to be the contractor of choice for clients and the workplace of choice for great people.
_________________________________________________
ICBE Advanced Productivity Network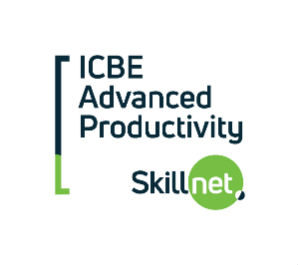 The ICBE Advanced Productivity Network, formerly Innovation Lean Six Sigma, was established over 12 years ago by the Irish Centre for Business Excellence. The Network was tasked with identifying national and international best practice and through targeted interventions enabled network members to become Internationally recognised centres of excellence.  Focusing initially on Lean, Six Sigma and Shingo the network has expanded to include key technologies and methodologies from automation to data analytics including additive manufacturing.
Comprising of over 200 cross sectoral members, the network has delivered over 34,000 training days, with 5,500 individuals across 700 companies, 144 best practice visits and assisted with the achievement of over 11 Shingo Awards.
With a focus on People, Processes and Technology the network has expanded its learning networks from assisting larger organisations to actively embracing SMEs and indigenous companies.
Some key activities include:
Formal Shingo International Best Practice Award
Come, See, Learn and Tell Best Practice Company Visits
Industry led courses
Knowledge Sharing Network
__________________________________________________
Sisk Group

SISK Group is a 5th generation, 150 year old family business. Founded in Cork, Ireland in 1859.  It has grown from a small local builder to an international construction company, now diversified into Consumer Products, Property and other investments in Ireland, U.K., Europe & the Middle East employing over 2000 people. SISK Group has a reputation & a track record built around quality, reliability, partnership, integrity & trust.
OUR VISION
"To be a diversified, internationally focused Group.  We will achieve this by living our values, respecting our family culture, delivering excellence and focusing our resources on activities that deliver long term sustainable results"
_________________________________________________
Skanska

Skanska is one of the world's leading project development and construction groups – and our purpose is building for a better society.
Skanska provides innovative and sustainable solutions to create a sustainable future for its people, customers and communities.
This is reinforced by a continued commitment to Safety, Ethics, Green, Community Investment as well as Diversity and Inclusion.
_________________________________________________
Environment & Energy Management

Ireland's leading publication dedicated to every aspect of environmental management and energy efficiency at industrial, commercial and municipal levels.
For over 11 years Environment & Energy Management has provided it's growing readership (now 12,000) with analysis and insight into the latest technologies and services available within Ireland, while our editorial team focus heavily on investment, business profiles and the future of the energy sector in this country.
As a publication written by acknowledged experts in their fields, Environment & Energy Management is disseminated to a controlled and targeted readership of over 12,000 key decision makers in Central & Local Government, the Professional/Services Sector (including Environmental Consultants, Engineers, Laboratories, all Third Level and other training/research Organisations, the Legal Profession and Agencies specialising in environmental protection and energy efficiency) – and, with particular attention to Small & Medium Enterprises, all sectors of Irish industry as follows: Food & Beverage; Pharmaceutical; Chemical; Medical; Electronics; Plastics; Packaging; Motor & Transport; Finance & Insurance; Textiles; Agriculture and Tourism.
_________________________________________________