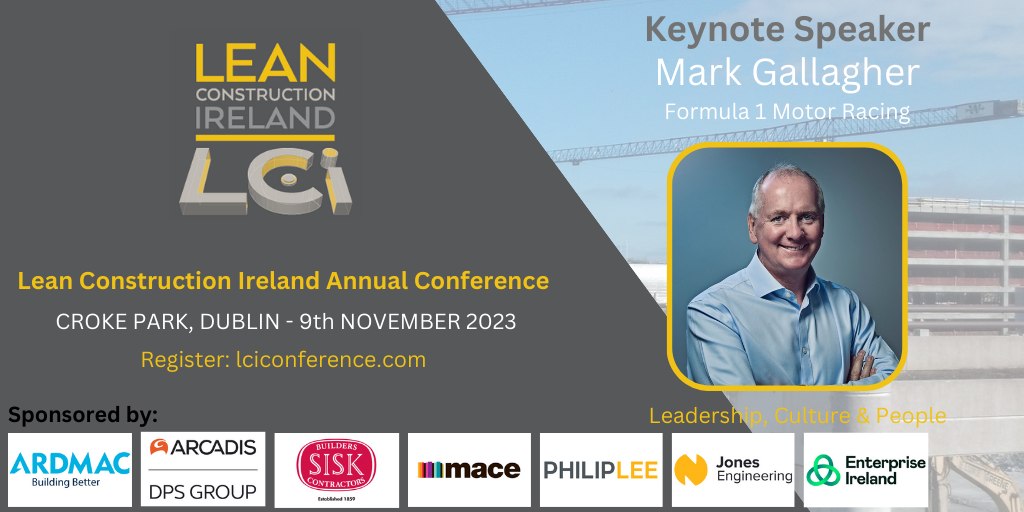 Mark Gallagher - Formula 1 Motor Racing
Mark Gallagher, has spent his career working in the global sports business of Formula 1 motor racing. This includes 15 years spent on the management boards of two well-known teams, Jordan Grand Prix and Red Bull Racing, and later as Managing Director of the Cosworth Formula 1 engine company.
His third book - 'The Business of Winning – Transformation from the Formula 1 track to the Boardroom'  - was published on October 3rd 2021. Mark was instrumental in introducing Lean principles and practice to the Redbull Formula 1 Team pitstops, which have become the benchmark in the sport and boast the fastest pitstops over the last 3 years.
---
Presentation Topic: Leadership, Culture & People
Angelyn is a partner in the projects and construction group at Philip Lee LLP. Angelyn is also a Director of Lean Construction Ireland and involved in the LCi Contracts Taskforce.
Angelyn has specialised in the area of projects and construction since 2004 and has extensive experience advising on major infrastructure projects and complex procurement matters. Angelyn advises funders, developers, employers and contractors on all aspects of construction law, including commercial office, residential, healthcare, energy and PPP/PFI projects. She advises on many standard form contracts such as the Public Works Contracts, RIAI, IEI, FIDIC, MF1, NEC4 and others, in addition to drafting and negotiating bespoke construction contracts. She advises on both contentious and non-contentious construction law matters. She advised on Ireland's first healthcare and social housing PPPs, representing the National Development Finance Agency.
In the area of public procurement law, Angelyn is skilled at advising clients on public procurement processes from inception to appointment, including advising upon the appropriate procurement procedures, pre-qualification and invitation to tender documentation, queries, debriefing obligations, evaluation process and legal challenges.
Angelyn frequently delivers training and talks on public procurement and construction law topics and is a lecturer on the Law Society Construction Law course.
---
Presentation Topic: Lean in Contracts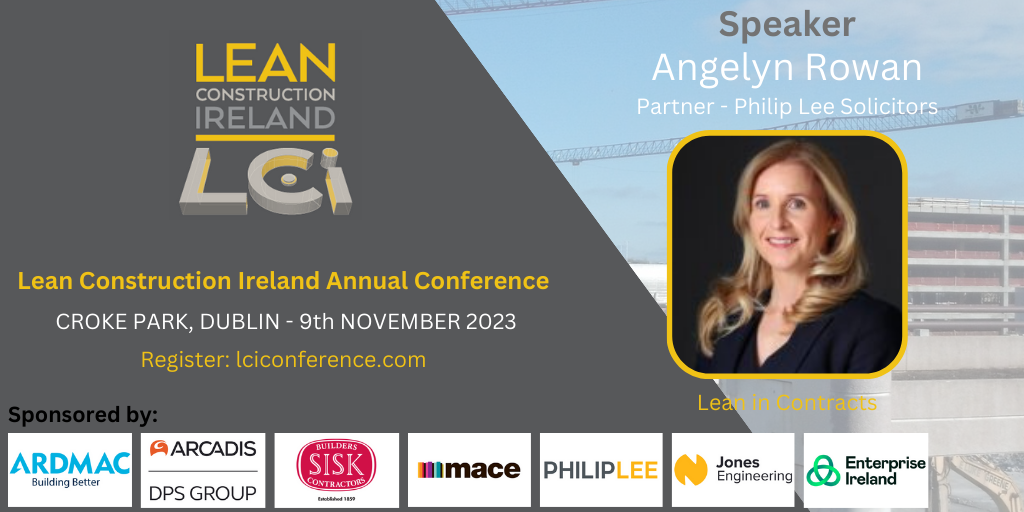 Angelyn Rowan - Partner - Philip Lee Solicitors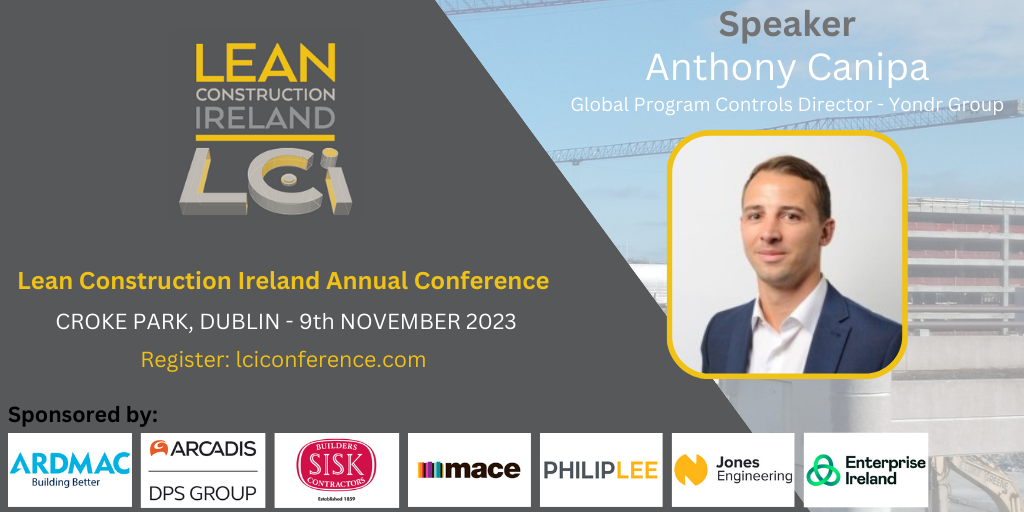 Anthony Canipa - Global Program Controls Director - Yondr Group
Bio to Follow
---
Presentation Topic: TBA
Bernie Barber is Head of Continuous Improvement at Uisce Éireann. Among other things, Bernie has honours degrees in applied science (physics & maths) & supply chain management; she has a black belt in Lean Six Sigma and is also a certified trainer. Bernie has spent more than 30 years successfully driving transformation and process improvements in a variety of roles in high volume manufacturing, business services and public health environments.
Bernie previously worked at Johnson Controls where her transformation of global compliance programs won multiple awards for excellence and innovation. She also held various leadership roles in Logitech, developing much of their global Quality Assurance and Regulatory Compliance programs and establishing the Social & Environmental Responsibility program there.
Bernie also supported Cork University Hospital in 2013 by performing a Lean assessment of the National Cancer Control Program build plans for a radiation oncology center of excellence at the hospital and revising them to improve flow and optimise patient pathways. The resulting "Glandore" Center was officially opened by then Tánaiste Simon Coveney on Friday 19 June 2019.
---
Presentation Topic: Uisce Éireann Yellow Belt Project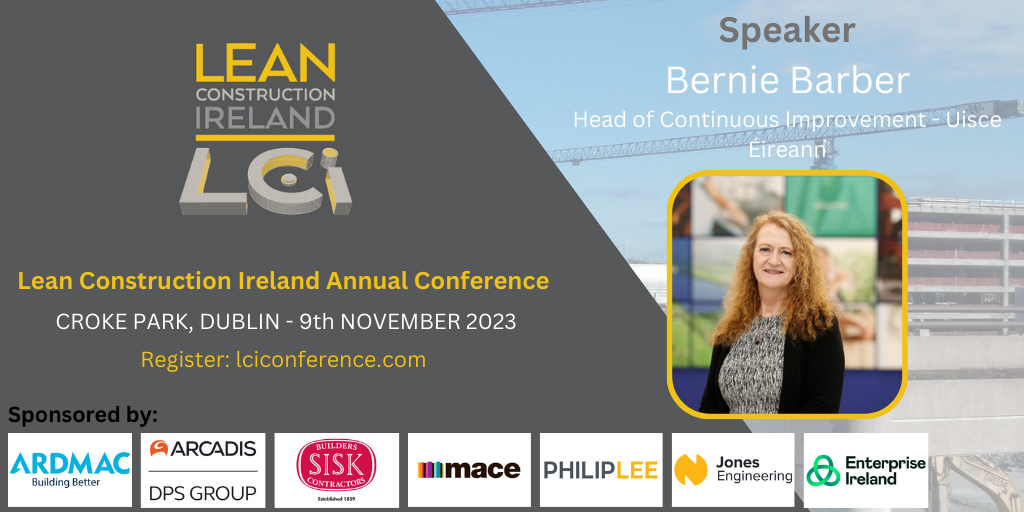 Bernie Barber - Head of Continuous Improvement - Uisce Éireann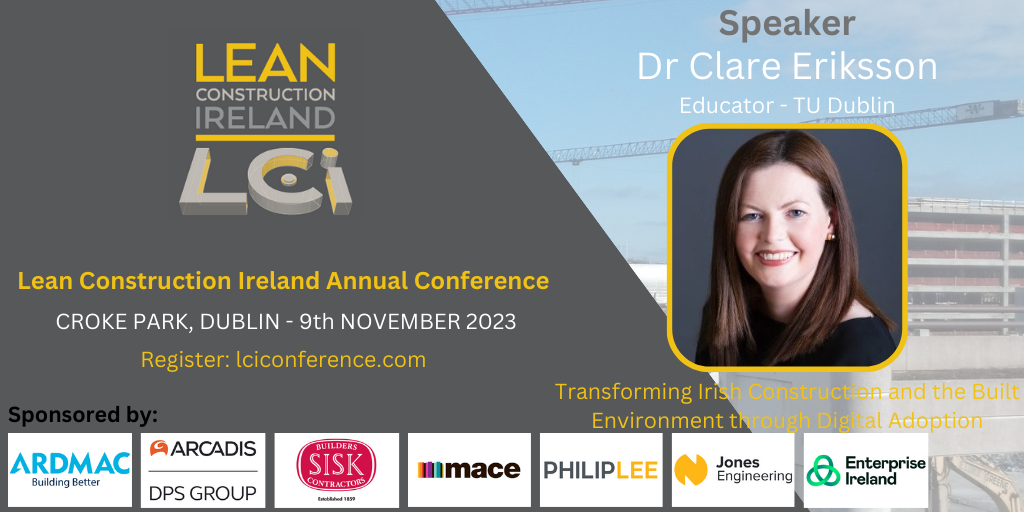 Dr Clare Eriksson – Educator – TU Dublin
Bio to Follow
---
Presentation Topic: Transforming Irish Construction and the Built Environment through Digital Adoption
20+ years' experience in the construction industry. I started my career as a quality systems administrator in the Industrial Refrigeration Industry.  I worked and studied my way to Quality Manager ,where my role developed to managing regulatory compliance and quality assurance over a large portfolio of projects in such industries as Bio Pharma, Pharmaceutical, Medical Device, Brewery, Beverage, Data Centres and Food Industries.
Currently I am the Compliance and Lean Lead for Kirby Group Engineering where my key objectives are to identify and prioritise the areas for improvement through the audit process and use a systematic approach e.g. Lean and Six Sigma tools to implement quality solutions which improve performance across all functions in a results and goal oriented manner.
I recently obtained a  Masters Degree in Strategic Quality Management, Lean Sigma Systems, Master Black Belt with the University of Limerick, sponsored by Kirby Group Engineering.
I also am a Chartered Quality Professional and Member of the Chartered Quality Institute (CQP MCQI)
---
Presentation Topic: Cost of Quality on Construction Projects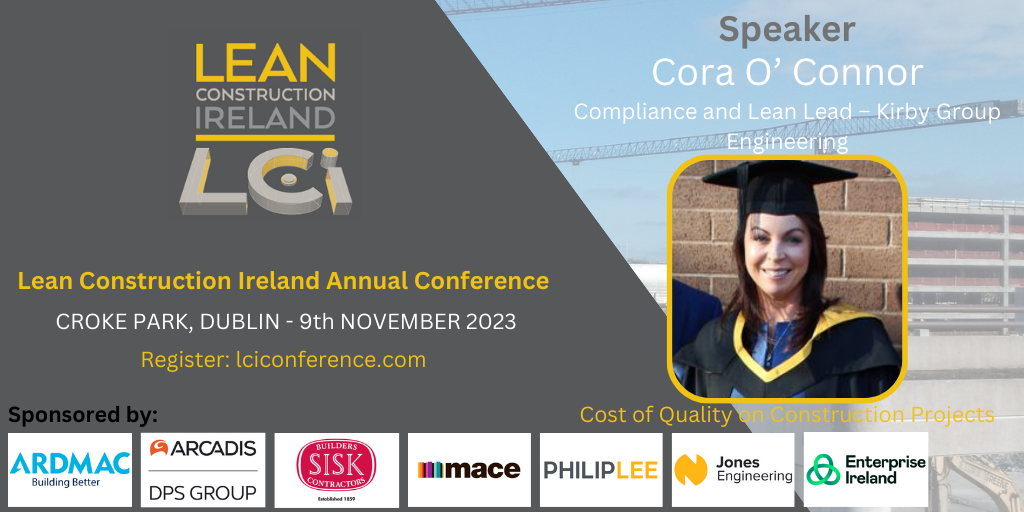 Cora O' Connor – Compliance and Lean Lead – Kirby Group Engineering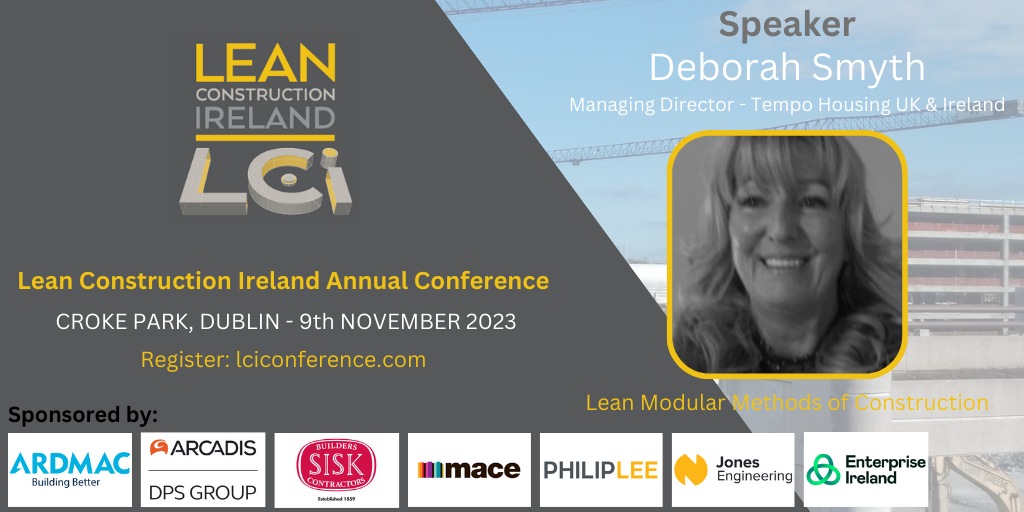 Deborah Smyth - Managing Director at Tempo Housing UK & Ireland
Bio to Follow
---
Presentation Topic: Lean Modular Methods of Construction
Bio to Follow
---
Sustainability Workshop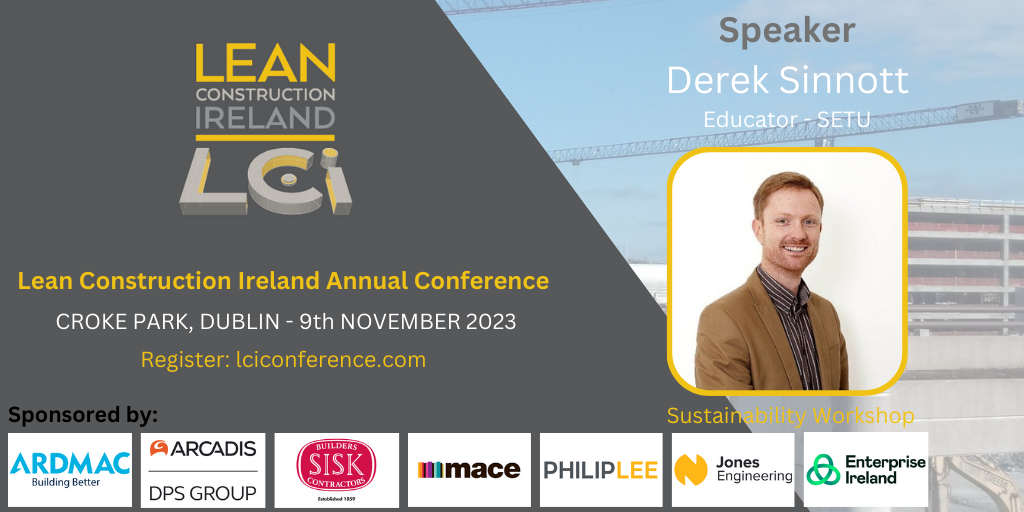 Dr. Derek Sinnott – Senior Lecturer – SETU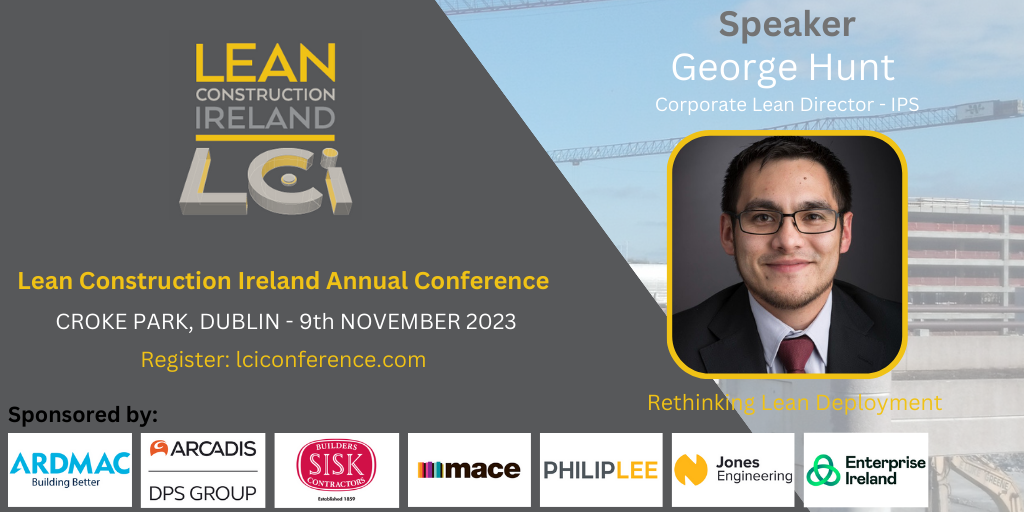 George Hunt - Corporate Lean Director - IPS
George is the Corporate Lean Director for IPS, a global EPCMV firm. A continuous learner of the intricate ways in which systems function, he uses his passion for Lean Design and Construction to help teams improve the way they work.  He has held past positions in the field, VDC, project management, and planning and scheduling, and has delivered projects of varying scope and complexity.
---
Presentation Topic: Rethinking Lean Deployment: "You have to do it this way" 
Ingrid McElroy is the Community Benefit Programme Manager for the new national children's hospital being built in Dublin and Children's Health Ireland's Diversity and Inclusion Lead.  On behalf of the National Paediatric Hospital Development Board and Children's Health Ireland, she developed one of the most pioneering social consideration clauses in construction ever used in the Republic of Ireland as well as rolling out an ambitious and wide-ranging community benefit programme.  Previously Learning & Development Co-ordinator with the Mater Hospital,  she also worked for many years in the not-for-profit sector as an independent consultant and project manager specialising in community development.
---
Presentation Topic: Achieving Social Value in Public Procurement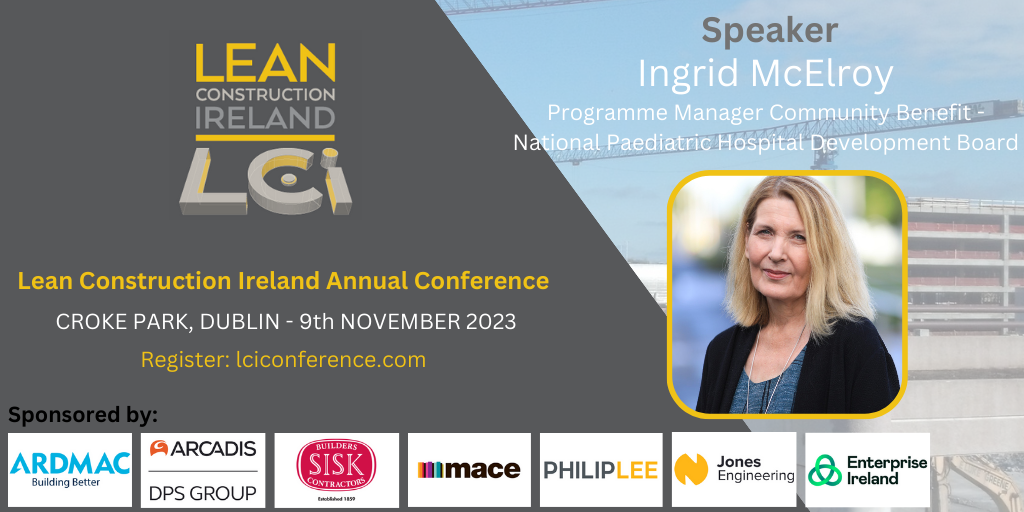 Ingrid McElroy - Programme Manager Community Benefit - National Paediatric Hospital Development Board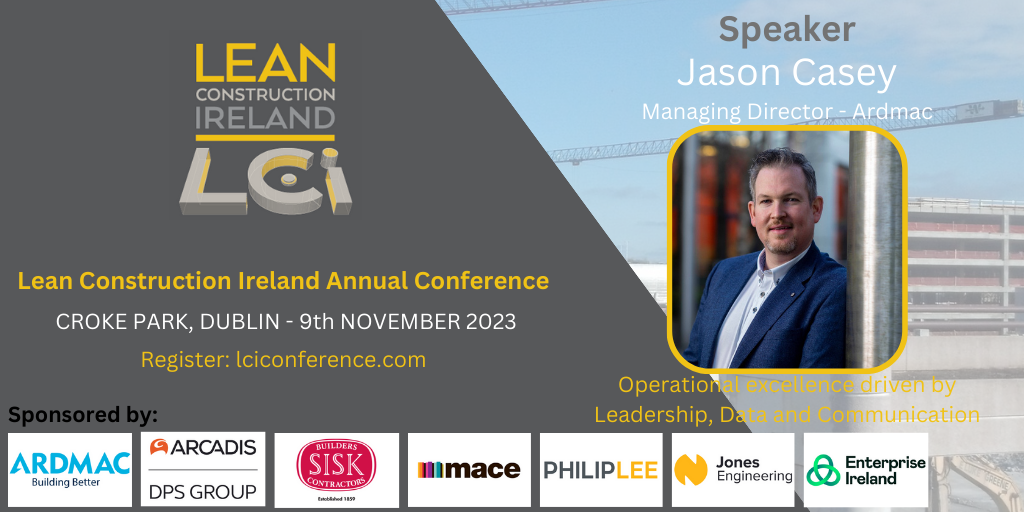 Jason Casey - Managing Director - Ardmac
A story of how a journey of Operational Excellence can be improved by focusing on Leadership, Data and communication. Ardmac focus on the delivery of their guiding principles and execution of these values from their leadership team. Using data trends to highlight and improve performance as well as a commitment to keep everyone informed has resulted in exemplar results for the business.
---
Presentation Topic: Operational excellence driven by Leadership, Data and Communication
Joanna is an Agile Business Consultant, who is an expert in Business Agility, Agile-Lean Transformation and the Development of High Performing Agile Teams.
Joanna has a masters degree in Project Management, from UCD Michael Smurfit Business School and has a background in technology and business.
She developed a career in Agile consulting and leadership development, working on bringing positive change across a wide range of organisations and sectors; the Public Sector,  Financial Sector including Insurance and Banking, Gaming, Aviation, E-learning, Tourism and Travel.
She holds numerous Agile certifications and is an approved provider of Agile & Lean Training and Consulting by Enterprise Ireland, IDA and Local Enterprise Office. She's also an Authorised Instructor with the International Consortium for Agile.
She has helped coordinate Agile-Lean events internationally and is a board member of Agile-Lean Ireland. Joanna is a very active member of the Global Agile Community. In 2018-2019 she was on the European Scrum Gathering Team with Scrum Alliance.
---
Presentation Topic: Scrum Master or Waste Master - How Scrum can turn into waste (Lean ways of thinking) if implemented incorrectly?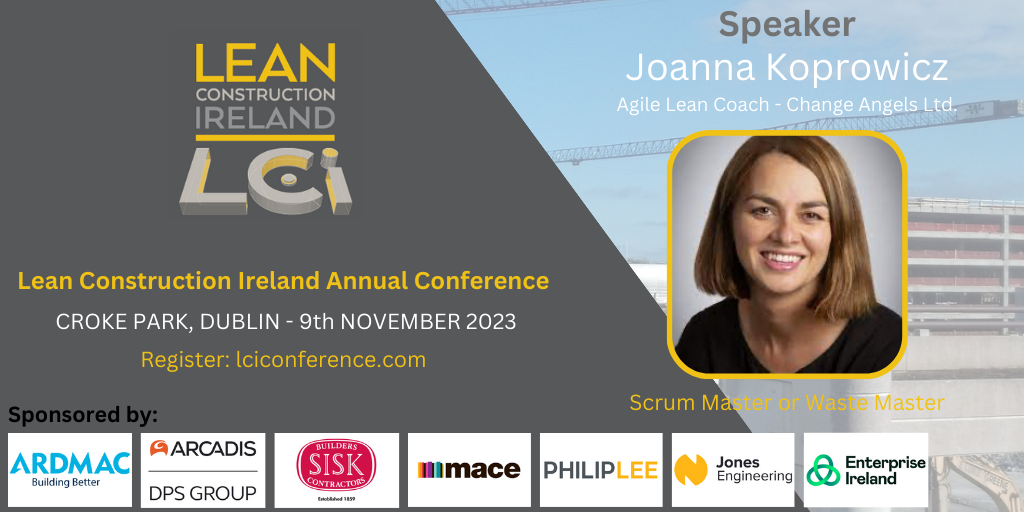 Joanna Koprowicz - Agile Lean Coach - Change Angels Ltd.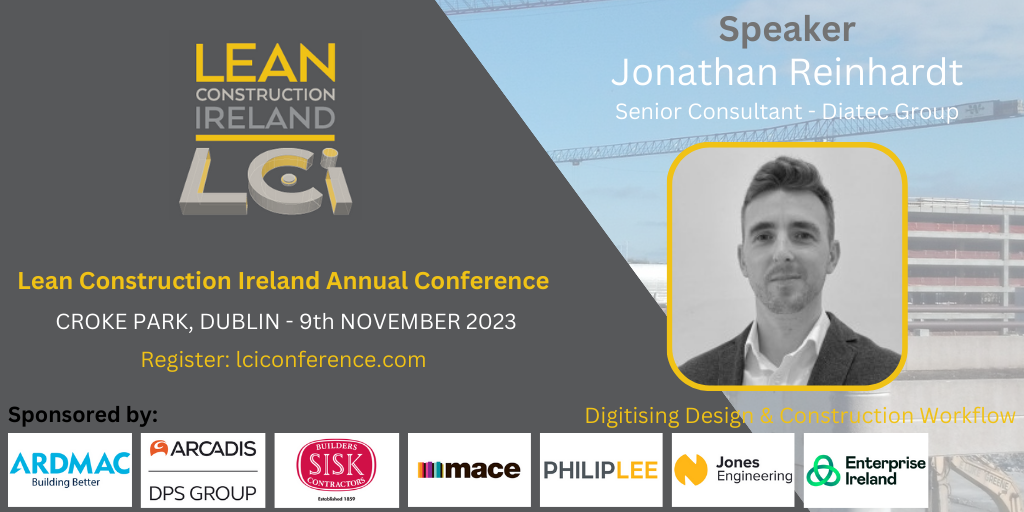 Jonathan Reinhardt - Senior Consultant - Diatec Group
Bio to Follow
---
Presentation Topic: Digitising Design & Construction Workflow
JP Kelly is the Associate Director at Murphy Geospatial's Cork office, leading and enabling the geospatial team across projects in Cork, Munster and Europe. JP has proven experience of successfully introducing cutting-edge BIM workflows and geospatial management plans on highly complex Biopharma and Pharma projects. He holds a BSc in Quantity Surveying & Construction Economics and a Diploma in Geo Surveying.
---
Presentation Topic: Geospatial Management for successful modular and off-site construction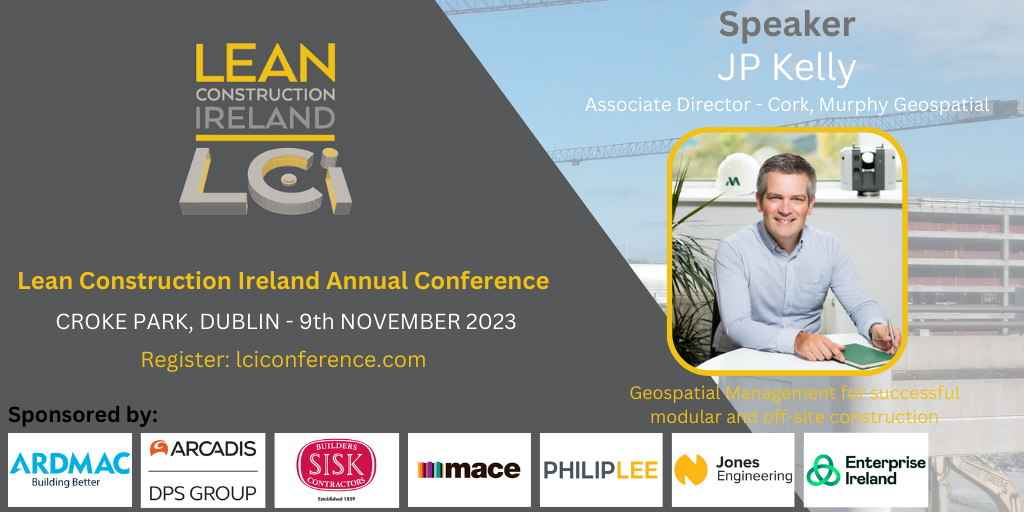 JP Kelly - Associate Director - Cork, Murphy Geospatial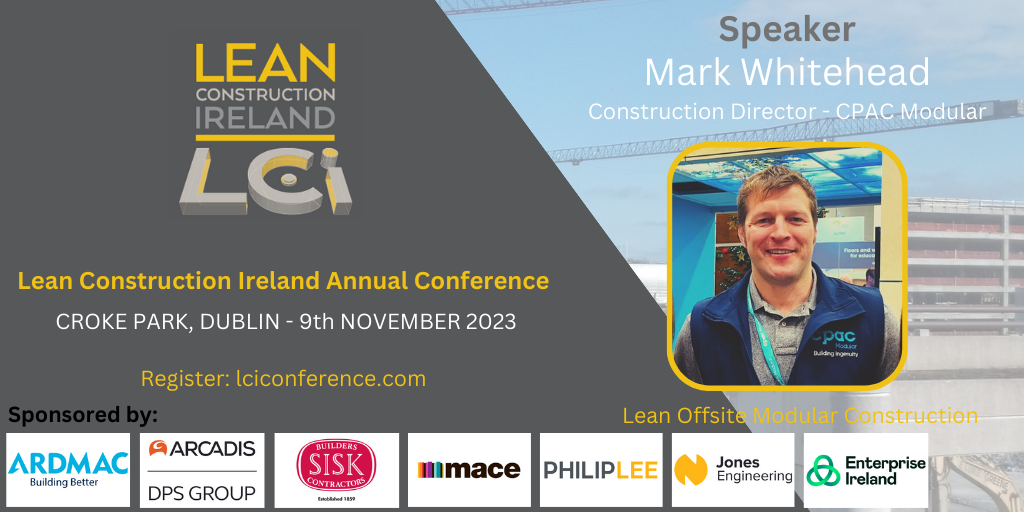 Mark Whitehead – Construction Director – Cpac Modular
Passionate about showcasing the benefits of Offsite Modular Construction and driving innovation, quality and improvement. Over 20 years of experience in the Construction Industry delivering Residential, Commercial, Healthcare and Educational projects.
---
Presentation Topic: Lean Offsite Modular Construction
Ross manages Enterprise Ireland's activities for the High Tech Construction and Housing sectors. Ross spent ten years as part of Enterprise Ireland's overseas team, initially working on the Middle East desk in Dublin before going on to manage EI offices in Toronto and New York. He has also spent time with IDA Ireland and the Department of Enterprise Trade and Employment. A Graduate of TCD and DCU, Ross lives in Dublin and enjoys spending time in the great outdoors and with his two young children.
---
Presentation Topic: TBA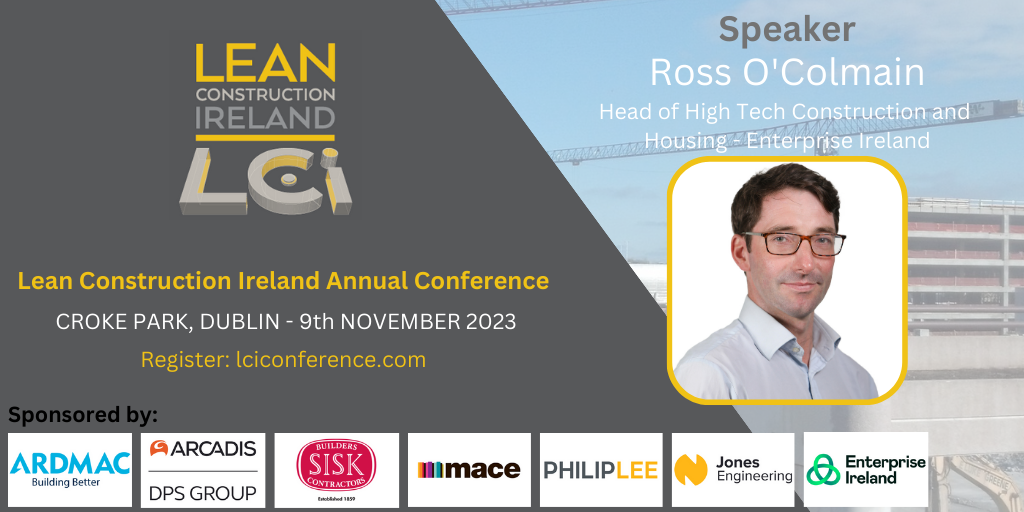 Ross O'Colmain - Head of High Tech Construction and Housing - Enterprise Ireland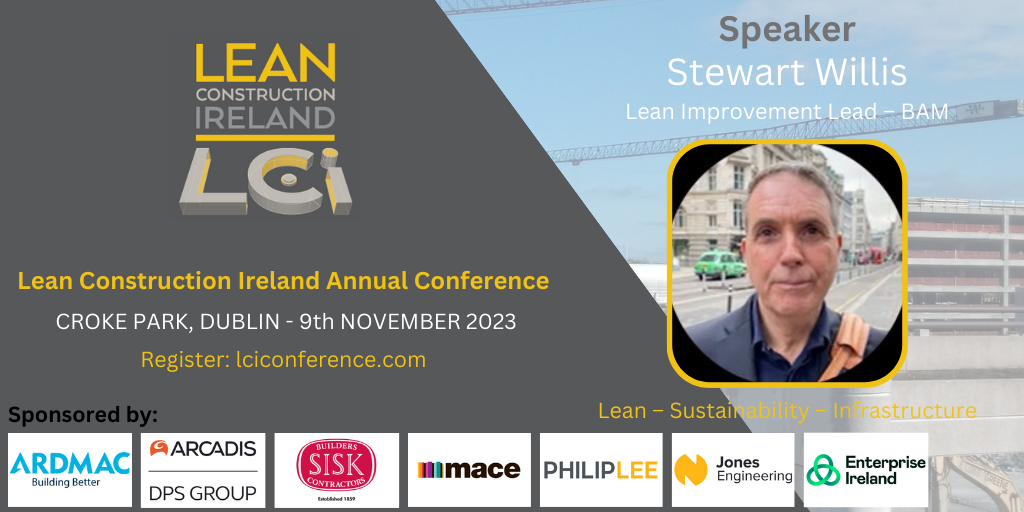 Stewart Willis – Lean Improvement Lead – BAM
National (UK&I) strategic Lean Improvement Lead. 12+ years experience of improvement methodologies and Lean deployment in construction culture. Co-chair of the ENCORD Lean working group. Advisor to the Lean Construction School. Chartered Quality Professional and Member of the Chartered Quality Institute (CQP MCQI).
---
Presentation Topic: Lean – Sustainability – Infrastructure
Tom brings a wealth of experience to the Lean Construction Ireland Conference, his entry into the construction world began hands-on as an apprentice electrician. Progressing steadily through the ranks, Tom occupied several project management roles across the UK, demonstrating adaptability, expertise, and a knack for leadership.
Eight years ago, Tom made the strategic decision to relocate to Ireland, delving into the dynamic world of the data centre industry—a move that has since defined a significant part of his professional journey. Demonstrating his continued commitment to innovation and progress, he has recently founded De Vooght Modular, a consultancy focusing on refining construction processes and championing sustainable practices in the industry.
Further solidifying his position as a thought leader in the field, Tom has also recently achieved an LLM in Construction Law and Practice, augmenting his practical experience with a robust academic foundation.
At today's conference, he brings his vast experience and a forward-thinking perspective on lean construction and its transformative potential.
---
Presentation Topic: TBA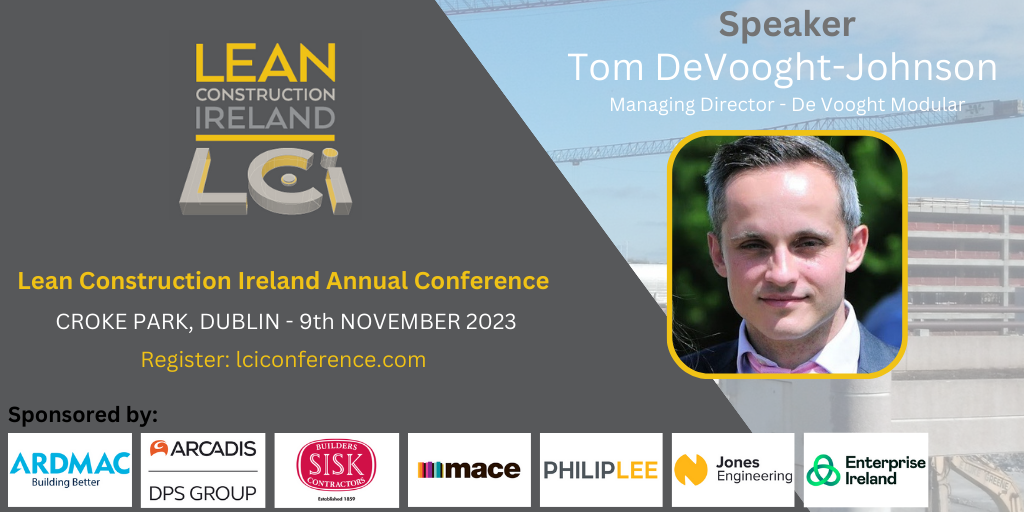 Tom DeVooght-Johnson - Managing Director - De Vooght Modular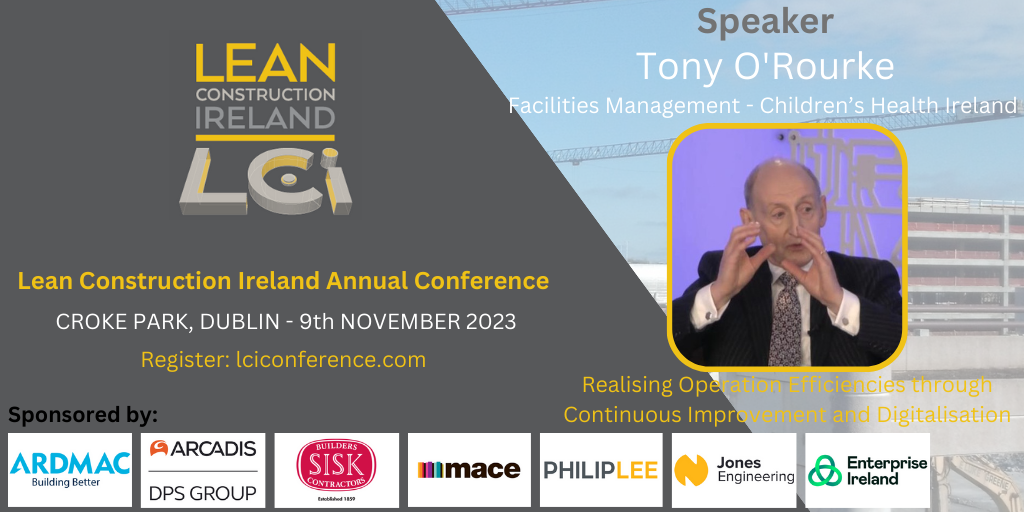 Tony O'Rourke – Facilities Management – Children's Health Ireland (CHI)
Bio to Follow
---
Presentation Topic: Realising Operation Efficiencies through Continuous Improvement and Digitalisation
Bio to Follow
---
Capability Development Workshop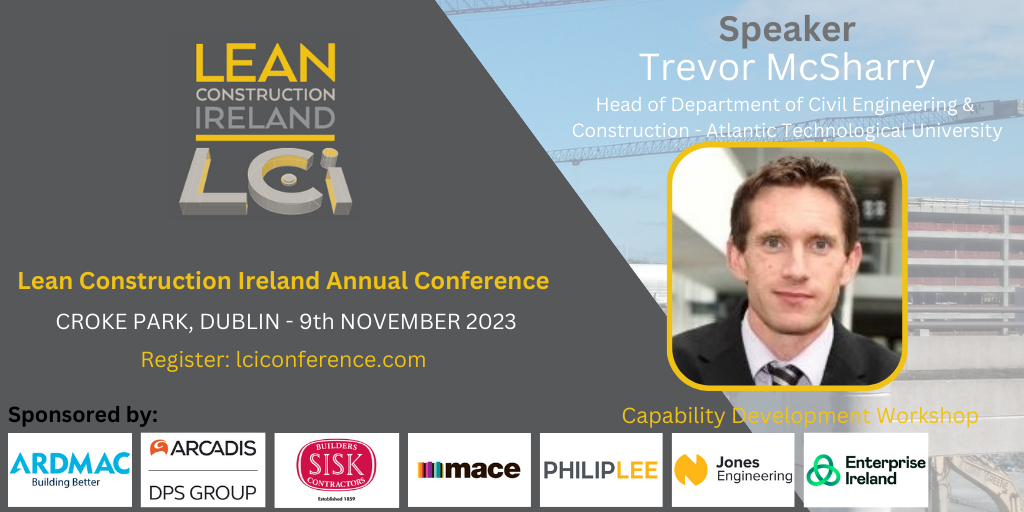 Trevor McSharry - Head of Department of Civil Engineering & Construction - Atlantic Technological University
Víctor Roig Segura - Consultor - BIMETRIC
Bio to Follow
---
Presentation Topic: Lessons learned from designing and building a 12000 m2 hospital in one year